Web
Hosting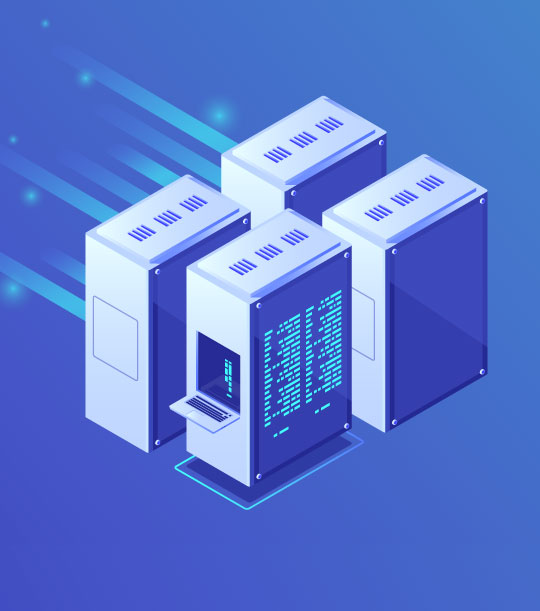 Best Webmasterz is a web hosting company based in Salem, Tamilnadu State, India. We have started this website to offer reliable and peace of mind web hosting solutions in economical prices. Best Webmasterz has been offering reliable hosting services at the most competitive rates. We also offer Domain Name Registration services from our website at very affordable prices. Our company provides you the convenience to host your website without any difficulty.
At Best Webmasterz we are providing you with web hosting on a number of different plans ranging from 150MB to Unlimited Plans. Our plans are great value, providing excellent features and space for the maximum use.
We offer Open source web hosting solutions on Linux Platform with full support of PHP 4 / PHP 5 with MySQL databases, and pre-installed application toolset such as Fantastico Deluxe with cPanel Control Panel. All our hosting plans include reliable E-mail Hosting Solutions. Reliability is the key to success on the internet. Our high quality redundant systems maximize uptime for your website.
Our web hosting plan is suitable for any static or dynamic website developed in HTML, PHP Application, Dreamweaver, Flash, NVU Photoshop, Front page, or any other web authoring tool. All our hosting accounts are supported by a comprehensive control panel through which you can fully control and manage your site. You can create emails, install a blog, add sub domains and check the server status all by yourself by a simple click of the mouse.
Fully Automated Platforms allowed managing emails, databases, applications, security, FTP and controlling every aspect of websites. CPanel or Plesk most widely used control panel solution. Will both provide fast, stable and secure control panels.
All you have to do is select a hosting package that suits your needs and simply register your domain name. You can use your existing name or choose a new one. Our easy and instant payment options allow you to get your site rolling in just a few minutes!
| | Starter Plan | Medium Plan | Economy | Advanced Plan |
| --- | --- | --- | --- | --- |
| Domain Limit | 1 | 2 | 2 | 10 |
| Web Site Builder | ✓ | ✓ | ✓ | ✓ |
| Full Support | ✓ | ✓ | ✓ | ✓ |
| Instant Backups | ✓ | ✓ | ✓ | ✓ |
| 99.9% Uptime | ✓ | ✓ | ✓ | ✓ |
| Free / Instant Setup | ✓ | ✓ | ✓ | ✓ |
| RAID1 Disk | ✓ | ✓ | ✓ | ✓ |
| Subdomains | 1 | 2 | 2 | 10 |
| | Starter Plan | Medium Plan | Economy | Advanced Plan |
| --- | --- | --- | --- | --- |
| MySQL Databases | Unlimited | Unlimited | Unlimited | Unlimited |
| FTP | ✓ | ✓ | ✓ | ✓ |
| CGI | ✓ | ✓ | ✓ | ✓ |
| PHP4 & 5 | ✓ | ✓ | ✓ | ✓ |
| Perl | ✓ | ✓ | ✓ | ✓ |
| SSI | ✓ | ✓ | ✓ | ✓ |
| Cron | ✓ | ✓ | ✓ | ✓ |
| FrontPage Extensions | ✓ | ✓ | ✓ | ✓ |
| Curl | ✓ | ✓ | ✓ | ✓ |
| Flash | ✓ | ✓ | ✓ | ✓ |
| GD | ✓ | ✓ | ✓ | ✓ |
| Apache Web Server | ✓ | ✓ | ✓ | ✓ |
| .htaccess | ✓ | ✓ | ✓ | ✓ |
| Image Magick | ✓ | ✓ | ✓ | ✓ |
| | Starter Plan | Medium Plan | Economy | Advanced Plan |
| --- | --- | --- | --- | --- |
| POP3 Accounts | 1 | 2 | 2 | 10 |
| Web Mail | ✓ | ✓ | ✓ | ✓ |
| E-mail Alias | ✓ | ✓ | ✓ | ✓ |
| Auto Responders | ✓ | ✓ | ✓ | ✓ |
| Mailing Lists | ✓ | ✓ | ✓ | ✓ |
| Catch Alls | ✓ | ✓ | ✓ | ✓ |
| Spam Assassin | ✓ | ✓ | ✓ | ✓ |
| Mail Forwarding | ✓ | ✓ | ✓ | ✓ |
| IMAP Support | ✓ | ✓ | ✓ | ✓ |
| SMTP | ✓ | ✓ | ✓ | ✓ |
| | Starter Plan | Medium Plan | Economy | Advanced Plan |
| --- | --- | --- | --- | --- |
| Fantastico | ✓ | ✓ | ✓ | ✓ |
| Hotlink Protection | ✓ | ✓ | ✓ | ✓ |
| IP Deny Manager | ✓ | ✓ | ✓ | ✓ |
| Custom Error Pages | ✓ | ✓ | ✓ | ✓ |
| Instant Blogs | ✓ | ✓ | ✓ | ✓ |
| Instant Portals | ✓ | ✓ | ✓ | ✓ |
| Instant PHPnuke | ✓ | ✓ | ✓ | ✓ |
| Instant Forums | ✓ | ✓ | ✓ | ✓ |
| Instant Guestbook | ✓ | ✓ | ✓ | ✓ |
| Instant Counter | ✓ | ✓ | ✓ | ✓ |
| Instant FormMail | ✓ | ✓ | ✓ | ✓ |
| Redirect URL | ✓ | ✓ | ✓ | ✓ |
| Web Based File Manager | ✓ | ✓ | ✓ | ✓ |
| Instant Counter | ✓ | ✓ | ✓ | ✓ |
| PW Protected Directories | ✓ | ✓ | ✓ | ✓ |
| phpMyAdmin | ✓ | ✓ | ✓ | ✓ |
| | Starter Plan | Medium Plan | Economy | Advanced Plan |
| --- | --- | --- | --- | --- |
| AWStats (Real Time Updates) | ✓ | ✓ | ✓ | ✓ |
| Webalizer | ✓ | ✓ | ✓ | ✓ |
| Raw Log Manager | ✓ | ✓ | ✓ | ✓ |
| Referrer Logs | ✓ | ✓ | ✓ | ✓ |
| Error Logs | ✓ | ✓ | ✓ | ✓ |
| | Starter Plan | Medium Plan | Economy | Advanced Plan |
| --- | --- | --- | --- | --- |
| Agora Cart | ✓ | ✓ | ✓ | ✓ |
| osCommerce | ✓ | ✓ | ✓ | ✓ |
| ZenCart | ✓ | ✓ | ✓ | ✓ |
| Cube Cart | ✓ | ✓ | ✓ | ✓ |
| | Starter Plan | Medium Plan | Economy | Advanced Plan |
| --- | --- | --- | --- | --- |
| Free Web Templates | ✓ | ✓ | ✓ | ✓ |
| Free Search Engine Submission | ✓ | ✓ | ✓ | ✓ |
| Free SEO Tools | ✓ | ✓ | ✓ | ✓ |
| Free Script Library | ✓ | ✓ | ✓ | ✓ |
| Free Contact Form | ✓ | ✓ | ✓ | ✓ |
| Google Apps Support | ✓ | ✓ | ✓ | ✓ |